The International Elephant Project (IEP) is a not-for-profit project for elephant conservation, rainforest protection and local community partnerships, in order to protect and save the entire ecosystem and biodiversity of habitats shared by elephants. Run by The Orangutan Project (TOP) Board, IEP was formed to conserve elephant's entire ecosystem in a holistic manner.
The Orangutan Project was established in 1998 by founder and world-renowned orangutan expert, Leif Cocks, as a result of his 25+ year career working with orangutans - including establishing the most successful breeding colony of orangutans in the world. The Orangutan Project was formed with a key mission; to ensure that endangered wild orangutan species would be protected against extinction, and would continue to live in secure populations for generations to come.
Today, The Orangutan Project is a dynamic, fast-growing and successful not-for-profit organisation that supports a wide range of critical projects that address the holistic problem facing remaining fragmented orangutan populations - including fighting deforestation and habitat loss at the highest level.
The projects funded by The Orangutan Project not only include direct orangutan conservation, such as orangutan rescue, rehabilitation and release programs, but also forest habitat protection and regeneration, education, research and local community partnerships. Tying funding into direct outcomes for the species has enabled The Orangutan Project to partner with the majority of orangutan conservation projects operating on the ground today in Borneo and Sumatra.
This has greatly increased overall efficiency and transparency in saving the species as a whole, bringing together the key players and groups who are working tirelessly on the ground to ensure the species' survival.
The long-term growth and sustainability of The Orangutan Project has been made possible only by the loyal support of our individual donors, many of whom have supported the organisation each year since inception.
Through orangutan 'adoptions', regular donations and critical appeals, the organisation has been able to achieve more for the species than any other orangutan conservation group. The ongoing support from our individual donors is imperative for the organisation to reach our goal of increasing the number of wild orangutans under The Orangutan Project's permanent protection to 8,000, to ensure sufficient numbers of each orangutan species/subspecies survive indefinitely.
Vision
That all endangered wild orangutan species/subspecies will live in secure, protected populations for generations to come.
Mission
To ensure the survival of both Sumatran and Bornean orangutan species in their natural habitat and promote the welfare of all orangutans.
Our Achievements
Since its formation in 1998, The Orangutan Project has contributed more than $8,700,000 directly into orangutan conservation projects and has earned a reputation amongst its partners and donors for being financially responsible and transparent, with 100% of all donations and orangutan adoptions monies raised going straight into the field. Overall administration costs are funded via non tax-deductible fundraising activities.
Summary of Achievements in 2015/16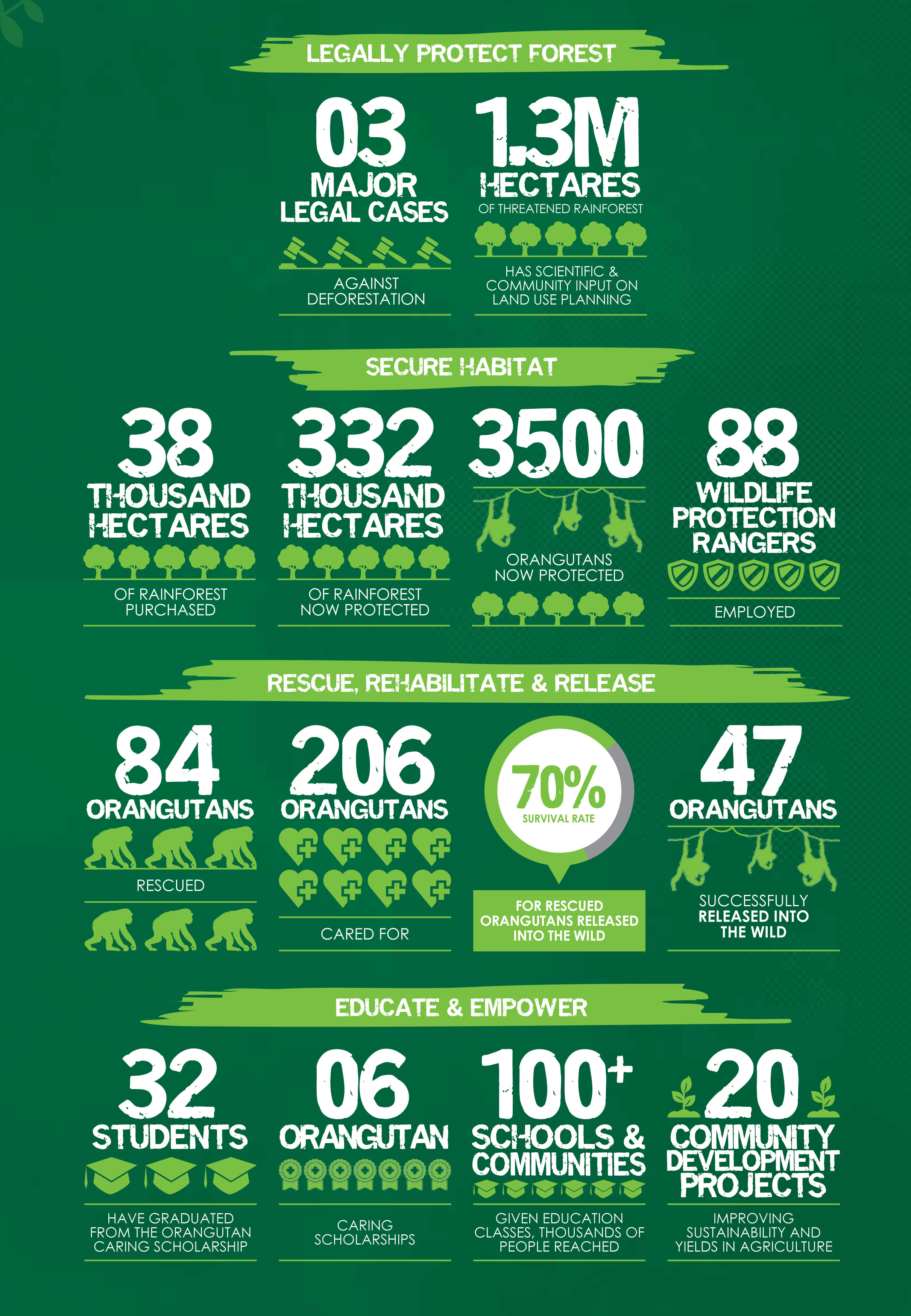 International Elephant Project and Wildlife Conservation International
International Elephant Project is a registered business name originally owned by The Australian Orangutan Project Incorporated, which was founded in Perth, Western Australia in 1998. Over two decades the organisation grew considerably due to the valuable support of donors and the relationships that were established with other conservation groups, local authorities and businesses. Saving orangutans also saves other endandered species such as Sumatran tigers and Sumatran elephants. Working with non-orangutan conservation groups protecting habitat also saves more orangutans. Due to these mutually beneficial projects The Orangutan Project founded the International Elephant Project and the International Tiger Project. Ongoing success resulted in a requirement to change the organisation structure to meet the demands of growth. Under professional advice, the board of The Australian Orangutan Project Incorporated ​​were advised to move​ ​to a company-based structure​ ​to enable the organisation ​to also be effective as an international organisation​​. In 2017 at the AGM a motion was passed that The Australian Orangutan Project Incorporated would become Wildlife Conservation International Limited, the umbrella organisation of The Orangtuan Project, International Elephant Project and the International Tiger Project.
Annual Reports
For more information about our achievements, fundraising and distributions of funds visit our latest annual report.
Audit Report
The Orangutan Project comissions an independent accounting firm to audit our organisation each year. The audit information is submitted to the Australian Charities and Not-for-profits Commission (ACNC) and other regional authorities where required.
For our most recent financial year (2016-2017) The Orangutan Project commissioned Walker Wayland to perform the audit.
View 2016-2017 Audited Financial Statement
Action Plan
Over the next ten years The Orangutan Project wants to increase the number of wild orangutans under permanent protection to 8,000 to ensure all distinct populations of orangutans survive indefinitely. This requires TOP to secure 1,800 km2 of prime lowland forest and protect it with 180 Wildlife Protection Rangers.
This will require us to increase income to $20 million annually.
Strategy
The Orangutans Project's action plan consists of two major strategies:
1. Secure land that contains wild orangutan populations through:
Purchase,
Leasing of Restoration Forest Concessions, and
Legally binding agreements with land owners.
2. Rescue, rehabilitate and release ex-captive orangutans to secure habitats.
Sister Projects
The objectives of the The Orangutan Project have many flow-on effects that both protect other critically endangered species, such as the Sumatran tiger, elephant and rhino, as well as indigenous communities and the remaining rainforest in Borneo and Sumatra.