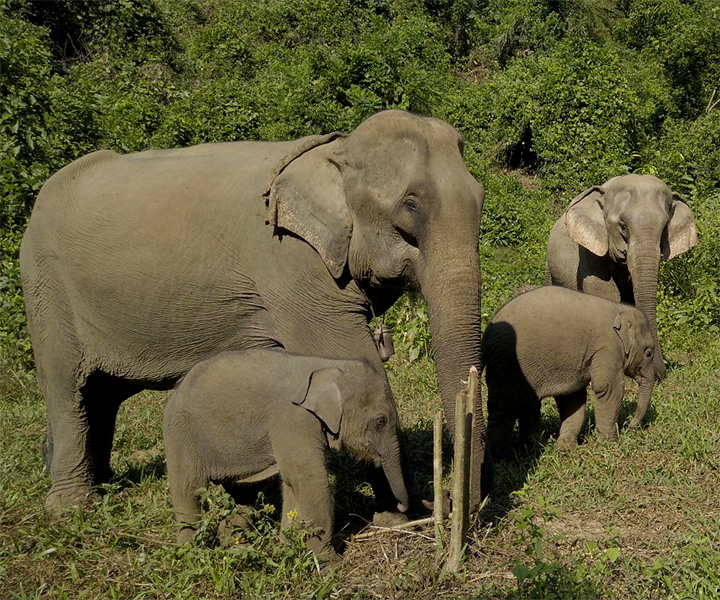 Many years ago, Laos used to be known as the 'Land of a Million Elephants'. This highly intelligent species was abundant and roamed the vast forests. But in the last hundred years, their numbers have plummeted to less than 800. If we don't change the game for Laos' elephants, they'll most likely become Extinct in the wild within the next ten to twenty years. We urgently need to secure the future for these youngsters and their doting mothers.
In Laos, elephants have been forced to work in the logging industry for decades to drag wood from the forest, among other treacherous tasks. Their lives are lonely and painful, with few opportunities to live as an elephant should. They are rarely given the chance to bring new life into the world, an experience which brings female elephants much joy. But at the Elephant Conservation Center, ex-captive elephants like Mae Khoun Noy and Mae Kham Pheng (pictured here with the two babies) are given new lives and new hope.
These precious babies, both born within the past 18 months, are known affectionately as 'Noy' until they turn two years of age. At that point, they will be given a name that reflects their personalities. This practice exists because there is such a high mortality rate for infant elephants that they are only named when their future survival is more certain. Your gift today can help secure their future beyond their second birthday.
The ultimate goal is freedom for these youngsters and their herds. In recent months, ECC has started to introduce the babies, their mothers and aunties to each other. In time, we hope these five elephants will form part of a larger herd that can be released into the wild, adding to the genetic diversity and population of their wild cousins. These two babies represent hope for their species, but only if they have forest wonderlands to explore into the future.
Please, don't let these babies be the last of their line. Donate now and help give them a future