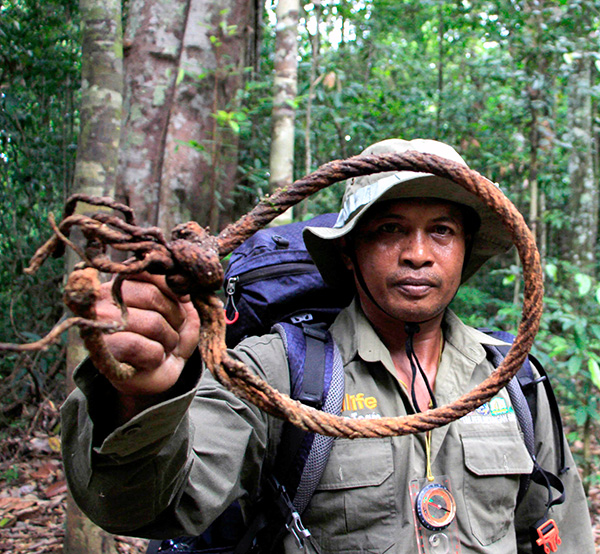 The Leuser Ecosystem, on the Indonesian island of Sumatra, is a wildlife wonderland. It's the only place on earth where Critically Endangered Sumatran elephants, tigers, orangutans, and rhinos live together.
But too many of them are suffering injuries and death from snares. And with snares on the increase, their forest home has become a danger zone.
Their next step could be their last.
Our rangers are doing so much to save the lives of precious wildlife in Leuser. They patrol the forest, find and destroy snares, and work with local communities to reduce human-elephant conflict and poaching.
But it's impossible to find every snare hidden on the forest floor. It's a vast area, nearly three times the size of Yellowstone National Park in the United States.
That's why emergency rescue operations are a vital part of any conservation strategy.
Without a team to respond to reports of distressed wildlife, more lives will be lost. And with each death, Sumatran elephants, and other threatened species, inch closer to extinction.
You can be part of that team and provide urgent on-the-ground support with a special gift today.
Your gift will give Sumatran elephants, and other threatened species, the help they so desperately need. Because of you, ensnared wildlife can be rescued, treated, released, and monitored. Your gift could save a life.
And if you make that special gift today, your gift will be matched by a generous supporter, meaning you will make twice the impact!
$50 = $100
$100 = $200
$500 = $1,000
Match my gift
Earlier this year, a snare almost cost 30-year-old Sumatran elephant, Senamo, her life.
Although she managed to free herself, the rope was embedded around her leg and became infected.
Thanks to reports from the local community of a limping elephant, the Elephant Protection Team was able to respond quickly and save Senamo's life.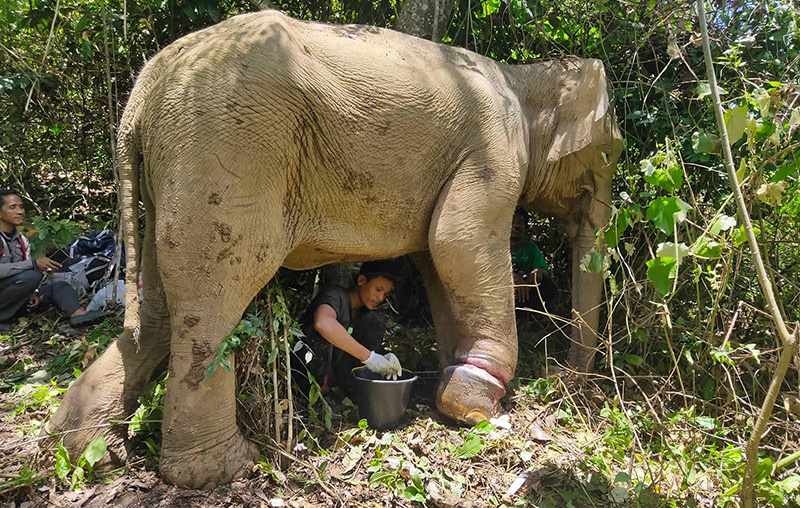 Senamo receiving treatment for her snare wound in the field. Photo credit: Forum Konservasi Leuser
Every life we save is so important for the ongoing survival of the species.
We must stop deaths from snares.
Join forces with us to protect Sumatran elephants and other precious wildlife with a gift today.