Discover how camera trapping unveils the hidden lives of Nam Pouy's elephant herds, shedding light on conservation successes and challenges.
Field Update | Nam Pouy Elephant Conservation
Discovering Elephant Herds Through Camera Trapping
---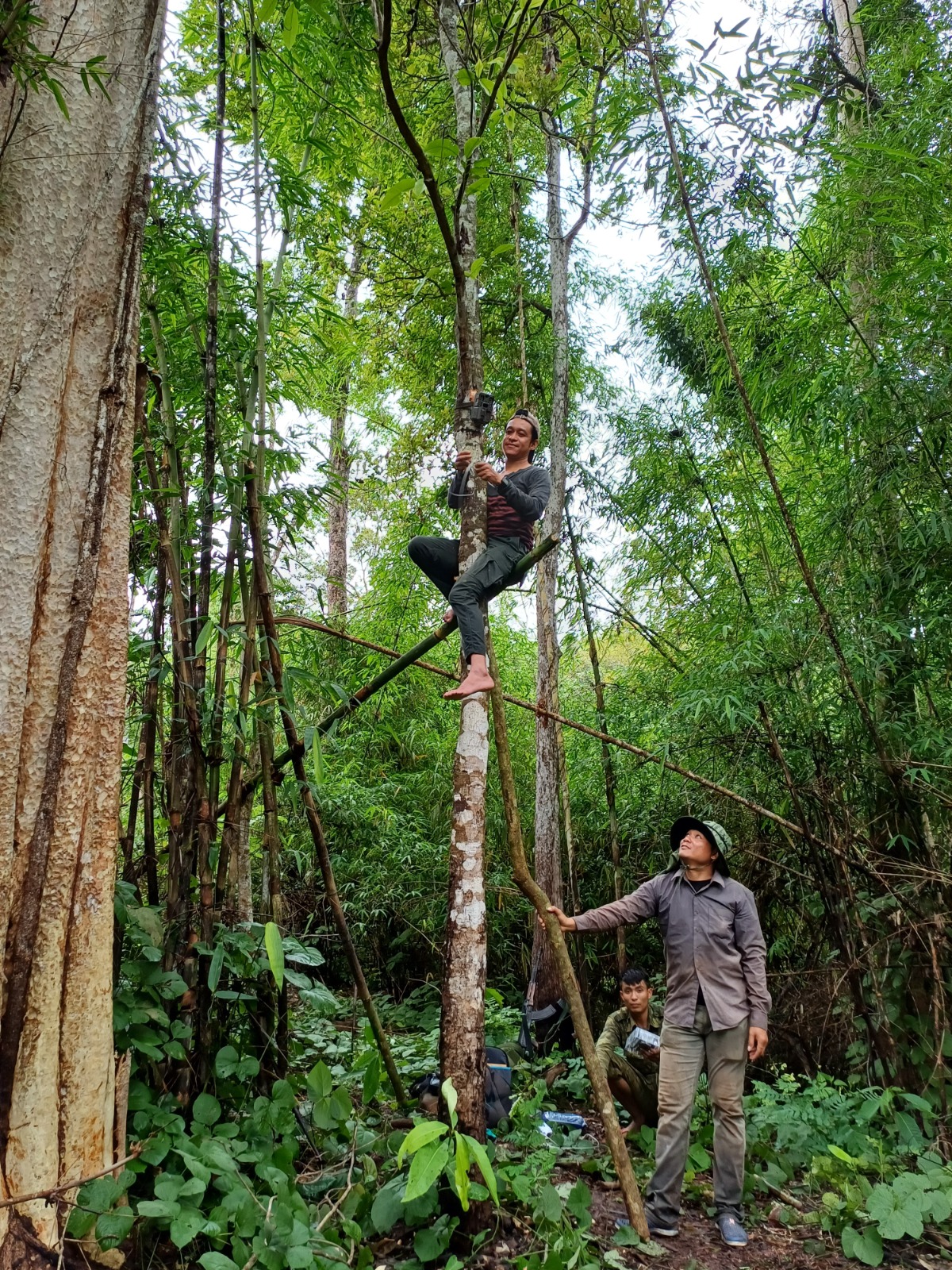 Nam Pouy National Protected Area, located in Sayaboury province, Laos, boasts the second-largest wild elephant population in the country, estimated to be between 40 and 60 individuals as of 2015. However, the area faces significant challenges in conserving this vital population and its diverse habitat. The International Elephant Project has stepped in to support conservation efforts in collaboration with the Elephant Conservation Centre (ECC) and the Provincial Agriculture and Forestry Office (PAFO).
Nam Pouy's Conservation Landscape
Nam Pouy National Protected Area, situated in Sayaboury Province in Northern Laos, spans 191,200 hectares and is recognized for its rich biodiversity. The area is home to diverse wildlife, including Asian elephants, Whitehanded gibbons, Clouded leopards, Asiatic black bears, Sun bears, and Dholes. Despite its ecological significance, the area faces multiple threats, including habitat loss, poaching, and human-elephant conflict.
Illuminating Asian Elephant Herds
Amid the challenges, camera trapping shines as a glimmer of hope for the critically endangered elephants. This quarter, the ECC team continued their camera trapping work, focusing on a new part of the NPA.
The idea of a possible third group of elephants in the southern area has intrigued conservationists for a while. It's not very likely that these elephants are completely different from the main group. Instead, they could be part of the larger northern group, like a branch of a family tree. And what's even more interesting is that in this region, it is traditional to manage captive elephants in a semi-wild manner.
Camera Trapping Update
---
The past quarter (April to June 2023) has seen significant progress in understanding the challenges and successes of elephant conservation in Nam Pouy.
Elephant Population Insights
Through camera trapping efforts, researchers have gained more profound insights into the elephant population within Nam Pouy. The camera traps identified at least 52 individual elephants. Notably, two separate groups have been identified: one consisting of 24 elephants with two adult males in the northwest and another group of 25 elephants with one adult male in the east.
Unfortunately, rangers discovered evidence of poaching within Nam Pouy. Four elephants were found dead, two in the northwest and two in the east of the protected area.
Camera trapping efforts have continued, focusing on a new area within the NPA. There have been rumors of a third herd of wild elephants in the south, though it's more likely that this represents a subset of the larger northern group or possibly captive elephants managed in a semi-wild manner.
The presence of ranger teams has proved crucial in uncovering poaching activities and deterring potential threats. Without their vigilance, many of these incidents might go unnoticed, enabling poaching networks to operate undetected.
The project aims to collaborate with the government to combat poaching while deepening understanding of the elephant populations through continued camera trapping, patrolling efforts, and potentially collaring some individuals from each group. These measures will contribute to better protection and understanding of the elephant population in Nam Pouy.
Get Involved with the International Elephant Project
As we reflect on the developments within the Nam Pouy Elephant Conservation Project, it's evident that the commitment of dedicated individuals and organizations can profoundly impact the preservation of wildlife and their habitats.
The progress achieved in understanding and addressing the challenges facing the elephant population within Nam Pouy National Protected Area is a testament to the power of collaboration and conservation efforts. However, the journey is far from over. The threat of poaching and the delicate balance of ecosystems continue to demand our attention and support. As we take these small steps in the right direction, we invite you to join us in making a difference: Your Generosity Matters: If you're as passionate as she is about protecting the elephants of Nam Pouy as we are, consider contributing to the cause. Your donation, no matter the size, can help fund patrols, camera trapping, and conservation initiatives vital to these majestic creatures' survival.
Together, we can ensure that Nam Pouy's elephants thrive in a safe and secure environment.
Donate now and become a supporter of the Critically Endangered Nam Pouy elephants.