Freda was collared for the first time in July 2013 and has since been recollared a further three times. The team attempted to recollar Freda recently however, unfortunately their luck ran out.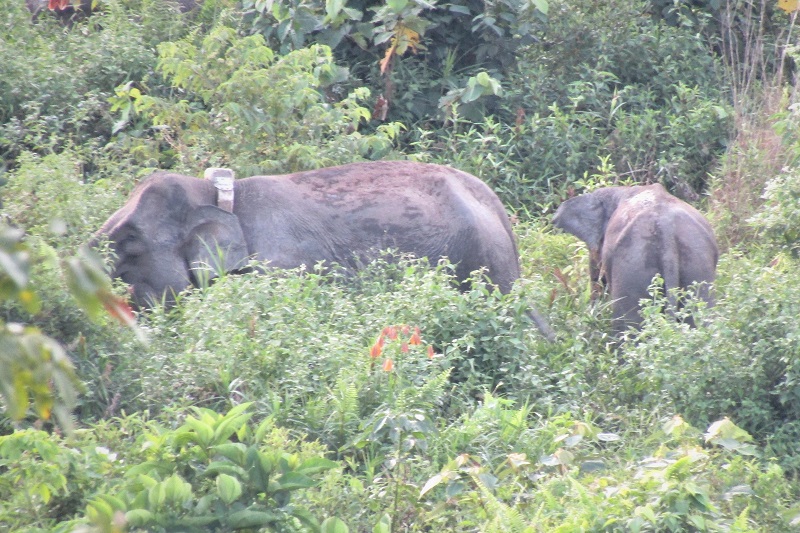 Beautiful Freda foraging in the forest
Freda's old GPS collar was removed on 15 December 2021. However, an attempt to put a new collar on failed due to the large number of male elephants in Freda's group.
As the team finished removing Freda's old collar, the team was approached by two male elephants and chased. All members of the team had to flee from the protective elephants and thankfully, no one was hurt. This event highlights how risky procedures with wild elephants can be. The team involved with collaring elephants in the Bukit Tigapuluh Ecosystem is very experienced and of course we only put GPS collars on these elephants since they are a vital tool in allowing our monitoring teams to follow and protect the Critically endangered Sumatran elephant herds.
All elephant herds in the Bukit Tigapuluh ecosystem are represented by at least one collared elephant so they can all be monitored. Because the team could not fit a new collar on Freda, we will be transferring her adopters to another beautiful female elephant named Ginting who has been in our elephant adoption family for many years. Thank you to Freda's adopters for your support and rest assured that Freda and her herd will still be monitored and protected. These photos show Freda foraging with her herd whilst still wearing her old collar and the team removing her GPS collar.
(Program run by Ministry of Environment and Forestry and Frankfurt Zoological Society).